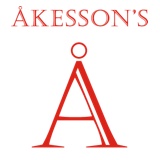 Åkesson's is an organic chocolate company founded by Bertil Åkesson. The son of a Swedish diplomat, Åkesson traveled the world with his family, eventually settling in Madagascar, where they took on several cocoa and spice plantations.

Today, they produce a range of organic chocolate bars and peppers from plantations in Madagascar, Brazil and Bali.
Åkesson's bars are currently manufactured by Pralus.
Suggest An Edit